This week we take you beneath the Black Sea in a submarine. Running with a high school cross-country team in arid California. Singing through the ups and downs of a young couple's relationship. We hang out a last time with the gang from Parks and Recreation. And then delve into some very serious and a decidedly lighthearted foreign film. Around the world. You'll laugh. You might sing. Hopefully you won't cry. But we should have more than enough to keep you entertained.





BLACK SEA

Jude Law continues an interesting transition from leading man roles to somewhat more character-driven work. In Black Sea, Law plays an out of work submarine captain, convinced to take on a mission to salvage a Nazi U-boat, thought to be full of gold. His patchwork crew is half British and half Russian, the tension between the two groups being just one of the problems facing the mission and Captain Robinson (Law). A well made undersea thriller from director Kevin Macdonald. We have copies of Black Sea in regular DVD and Blu-ray.




MCFARLAND, USA

Very much an audience favorite, McFarland, USA is based on the the true story of the McFarland High School cross-country team that won the California state championship in 1987. Kevin Costner plays the coach who starts a cross-country team at the predominately Mexican-American high school.

While we won't have Pitch Perfect 2 on DVD for a while, fans of the delightful Anna Kendrick can enjoy her acting and singing in The Last Five Years. Based on the Broadway musical of the same name (which actually premiered at Chicago's Northlight Theater in 2001), The Last Five Years tells its story almost entirely in song. A young couple's five-year relationship plays out in songs sung in reverse chronological order by Cathy (Kendrick) and forward from their first meeting by Jamie (Jeremy Jordan).



SPRING


Looking for something a little different? A period of intelligent horror films (e.g., The Babadook, the upcoming DVD release of It Follows) continues with Spring, the story of a young American back-packing along the Italian Coast who meets an enchanting native. What could possibly go wrong? Check out Spring and find out.




Also new this week - Jeff Bridges and Julianne Moore star in the fantasy film, SEVENTH SON.




PARKS AND RECREATION, THE FAREWELL SEASON

Yes, one last go round with the large and talented cast of the NBC series, Parks and Recreation.




Also new: MAJOR CRIMES, THE COMPLETE THIRD SEASON
RAY DONOVAN, SEASON TWO
RIZZOLI AND ISLES, THE COMPLETE FIFTH SEASON





Foreign Film
Konstantinos Gavras, commonly known as Costa-Gavras, has been making intelligent political thrillers for more than 40 years. Recently, the Criterion College added two of Costa-Gavras' early 1970's films to their redoubtable library. Both films star French actor and singer Yves Montand.

In the riveting Confession, Montand plays a Czech dignitary abducted and imprisoned by the country's ruling Communist party.


Yet again, Montand plays a man kidnapped in
State of Siege
. This time he's an American official, abducted by a South American guerilla group, outraged at U.S. involvement in their country's politics.

The library also has what many consider to be Costa-Gavras' finest film, Z.


MERCHANT OF FOUR SEASONS

No lightweight himself, German filmmaker Rainer Werner Fassbinder was the enfant terrible of New German Cinema. The filmmaker managed to create as much provocative work as controversy in a career cut short by death at the age of 37. Another recent release from the Criterion Collection, Merchant of Four Seasons deals with the plight of a fruit peddler living in 1950's West Germany who is driven to madness by what he sees as an uncaring society.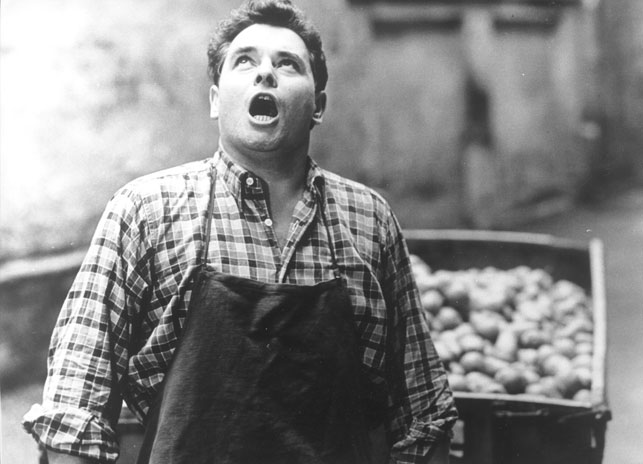 THAT MAN FROM RIO

Too much seriousness, you say? As if there's not enough disturbing things going on in the real world? Fair enough. So...Adrien Dufourquet to the rescue! And who, one might reasonably ask, is Adrien Dufourquet? As it turns out, there have been James Bond spoofs about as long as the character of the British secret agent has been in the popular consciousness. This early French spoof (as opposed to the later OSS 117 films) from 1964 stars the handsome and cheeky Jean-Paul Belmondo as airman Dufourquet, drawn into international intrigue. As with the Bond films, the pace is quick and the photography in several locations around the world striking.

db
---